QI Requirement
How Many Projects Should I Complete?
Nearly all diplomates are now in a certification cycle in which one project is required every five years, along with the other five-year requirements in Lifelong Learning and Assessment. See below for a chart illustrating most diplomates' every-five-years requirements:
For detailed information about your current cycle requirements, please sign in to your secure Certification Dashboard.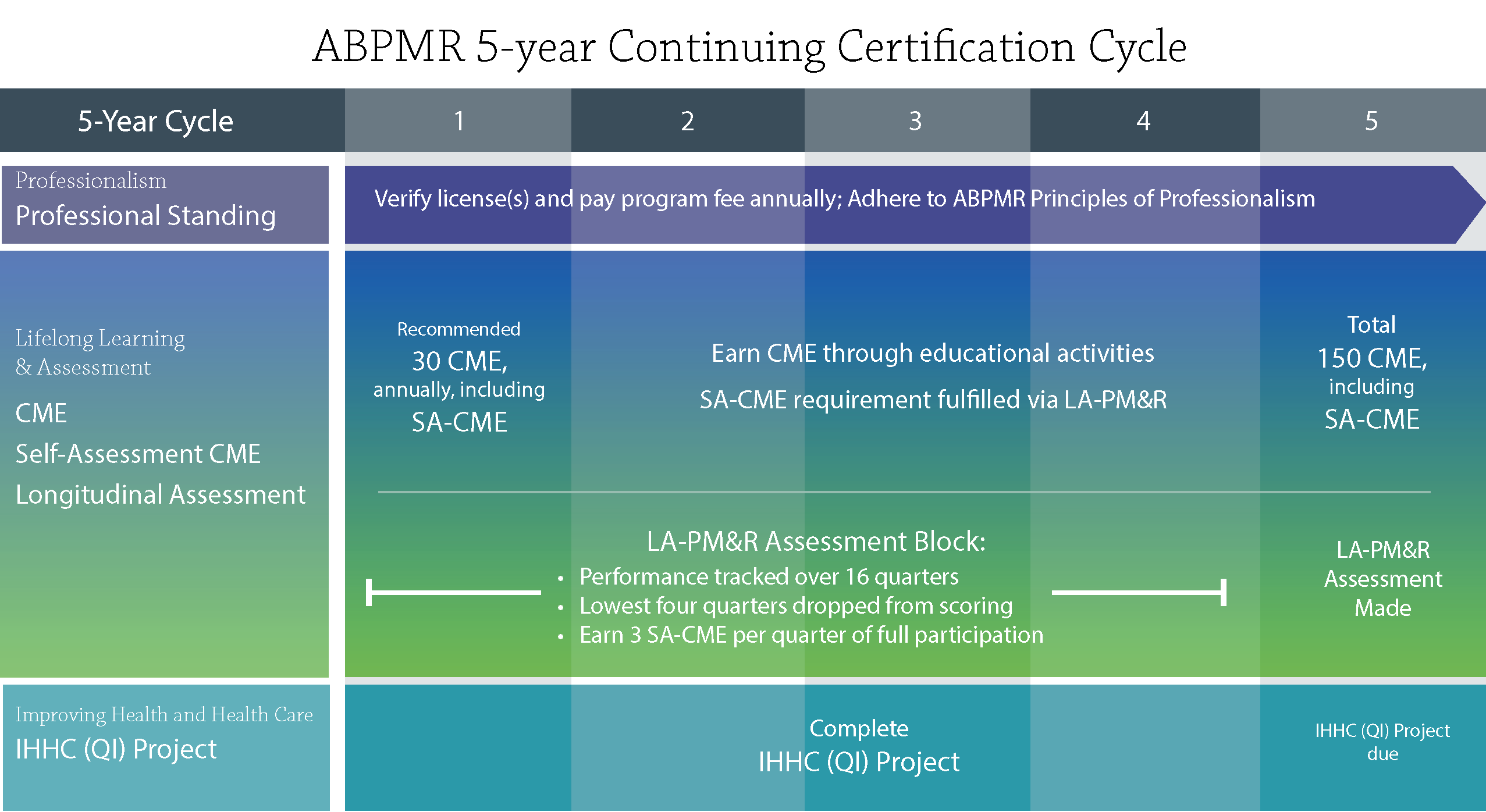 QI Project Options
Options to Complete a QI Project for CC Credit
You have several options for completing a QI project for continuing certification credit; see the list below for descriptions and links.
Name
Cost
Available CME
Estimated Completion Time
More Information

ABPMR Self-Directed QI Project

Topic chosen by diplomate relevant to his/her practice

Free
N/A

Dependent on project and review time
Review can take up to 8 weeks
NOTE: Sometimes reviewers can request revisions, which can add more time

Pre-Formatted QI Project: AAPM&R Options

Deep Vein Thrombosis
Low Back Pain
Osteoporosis
Stroke

Member: Free

Non-Member: $275

20

Dependent on project
Process includes a recommended 30-day period for data gathering and analysis

Pre-Formatted QI Project: AANEM Options

Electrodiagnostic Report Writing
Ulnar Neuropathy

Member: $125

Non-Member: $250

20

Dependent on project
Process includes 30-day mandatory lockout period for data gathering and analysis

Portfolio Program

Per institution
Per institution
Per institution

Spine Patient Registry

via AAPM&R

Free during pilot period
N/A
Ongoing, longitudinal

Patient-Centered Specialty Practice Recognition

via National Committee on Quality Assurance (NCQA)

Per NCQA
N/A
Per NCQA and institution

Practice Accreditation in MSK Ultrasound Guided Interventional Procedures

via the American Institute of Ultrasound in Medicine

Varies
N/A

Dependent on project and review time
Review can take up to 8 weeks