Your Assessment Design
Customizing Your LA-PM&R Content
Based on consistent diplomate feedback, one of the key hallmarks of ABPMR's longitudinal assessment design was the ability for diplomates to customize their question content. In recognition of the broad range of specialization seen in PM&R, the customization system built into LA-PM&R allows dialing up or down of content areas, but minimums and maximums ensure that diplomates are seeing questions across the spectrum of PM&R.
Customization Within Parameters
How To Customize
When you first log into LA-PM&R, the platform will guide you to set your assessment design before delivering any questions. Click on 'Assessment Design' and you'll see something like the picture here.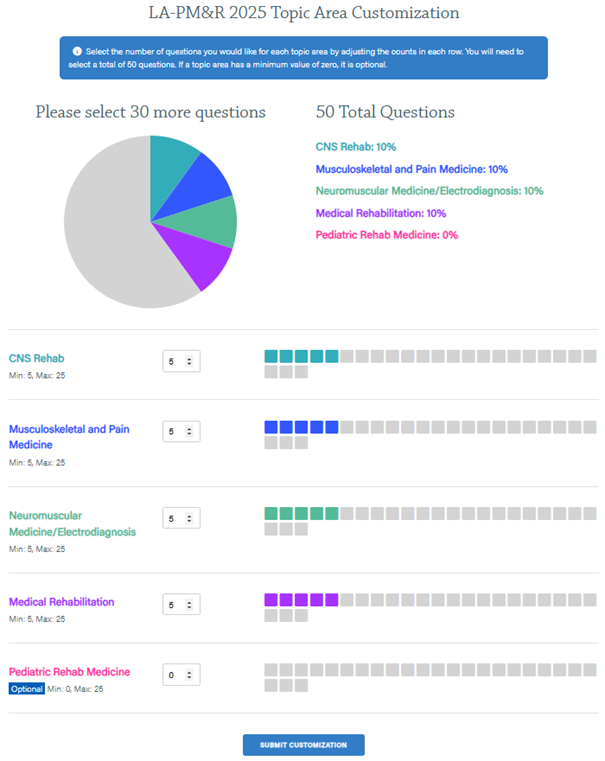 Reflecting The Entire Field Of PM&R
You'll notice that all categories (except pediatric rehabilitation) are set at a minimum of 10 percent of the total assessment. The ABPMR Board of Directors has determined all of these categories to be "core content" for the purpose of maintaining certification in PM&R. In this way, the customization system allows participants to weight the number of questions according to their preferences while still maintaining a minimum baseline knowledge of these core areas of PM&R.
The categories and percentages were also set with input from initial surveys of diplomates and feedback from the LA-PM&R pilot participants — 84 percent agreed or strongly agreed that the customization system allows them to get questions that adequately reflect their practices.
Category Topics
To help guide diplomates' decisions on assessment design, the following topic areas are included under each core category:
Central Nervous System Rehabilitation:
Musculoskeletal & Pain Medicine:
Pediatric Rehabilitation Medicine:
Medical Rehabilitation:
Neuromuscular Medicine / Electrodiagnosis:
Completed Customization
Sample Customization
Once you've made your decisions, increase or decrease your content concentrations by using the + and – buttons on the screen. Here's an example of a completed customization screen: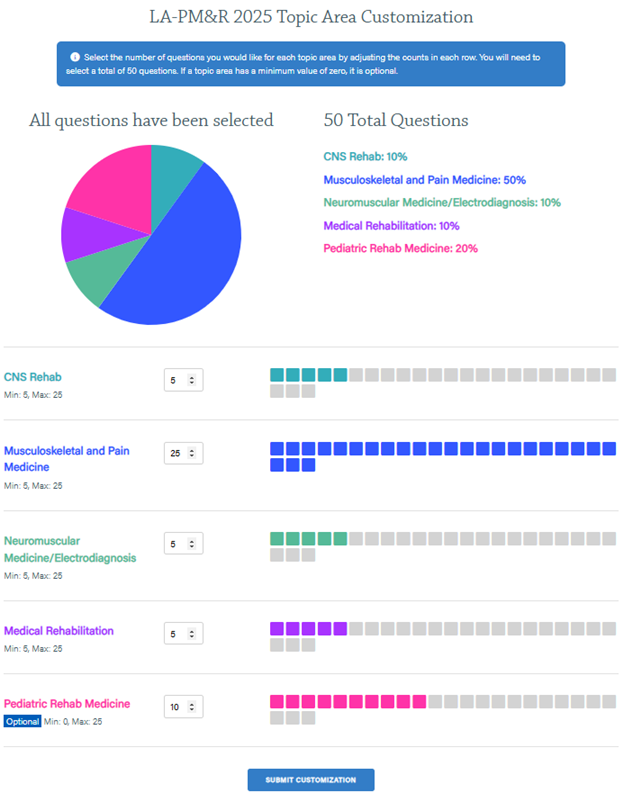 Once you click "Lock & Save," these percentages may not be changed for a full year. This allows the system to deliver the correct distribution of items for at least four quarters before changes can be made to the concentrations.
The ABPMR will continue monitoring the customization system categories and percentages, including considering feedback from diplomates using the system.